Artfool present a circus show by a family, for families. This 40 minute show includes clowns that bring laughter to children of all ages, skilful juggling, daring balancing acts and spectacular aerials.

Artfool are a family of circus performers that have lived, travelled and performed in New Zealand and Europe. Featuring 10 year old Matthias with his Rolla bolla , magic and clown, Damian acting as ringmaster , clown and juggler, and of course the stunning Irene presenting 2 pieces of aerial acrobatics with grace and beauty, this show captures every audience.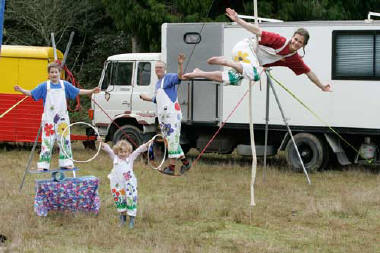 Like real circus, Artfool travel with all their own equipment , including sets, props, house truck and aerial rig.

Artfool have their own certified outdoor rigging and safety equipment as well as extensive training and experience in using and rigging it for aerial performance.

The rig is an eight (8) metre high steel structure that is design engineered and easily transportable. It can be erected at most outdoor venues. Artfool can meet all O.S.H. safety standards and will supply the appropriate paperwork.